Relocating For a Job- A Good Move?
Is relocating for a job a good idea? It's a question we get asked often.
We get it, you've been offered a better job, with a better salary, or even a better job, with a pay cut and it's tempting. So, you're pondering the question of the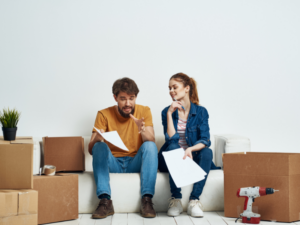 day. Do I do it? It all comes down to one thing- your priorities. So, if moving across the country, or even just across town is required for this new opportunity, there are several questions we suggest asking yourself as you make your decision.
IS YOUR FAMILY COMING ALONG?
The more people coming along for the journey, the more things there are to consider. If you're moving solo, the decision may be an easy one. If you're moving with a partner, you may have a bit more of a challenge. If you're bringing the entire family, that may be a different story! Will other family members have to quit their job? How easy will their work commute be? Will they be able to find another job in your new community? Is your partner pleased in their current job? Do they have an opportunity for growth? Is it a good time for them to pack up and move? So. Many. Questions.
HOW MUCH TIME DO YOU NEED IN ORDER TO SELL YOUR HOME AND FIND A NEW ONE? WILL YOU BUY OR WILL YOU RENT?
Depending on the housing market and condition of your home, you may be ready to pack up and move. A lot of times, though, this simply isn't the case. What's the housing situation in your new city? If you're moving on your own, you may be willing to rent temporarily while you search for a home to buy. However, if you're moving with another person, or even multiple people, that may not be feasible. Depending on when you start the new career, you may want to go alone and have the rest of the family join you at a later date. This solution works for some people, not all.
DO YOU HAVE RESPONSIBILITIES YOU SHOULDN'T FARM OFF ON SOMEONE ELSE?
Almost everyone has responsibilities outside of work. Care for parents, community or church involvement, volunteer responsibilities, clubs, to name a few. Some of these responsibilities may be easier to set to the side than others. That is a decision that only you can make.
WILL YOUR NEW JOB CREATE A LOWER STRESS SITUATION FOR YOU (AND YOUR FAMILY)?
Don't let the dollar sign fool you. Even a bigger position and a salary increase could actually cost you more than it benefits you. Have a clear outline of what your new job entails and it's requirements for you. Will you have to work more hours? Are you ready to commit to those hours?
Aside from the specifics of your new opportunity, you will want to consider what your lifestyle will look like in the new area. Is the pace more hectic? Will you be able to find a home close to work and schools? Will you feel safe here? Does it bring you joy and peace? Moving can be stressful, we all know this. Now is the time to decide whether the stress is truly worth it.
WILL THE MOVE BE A GOOD FINANCIAL DECISION? WILL IT AFFECT YOUR PHYSICAL AND MENTAL HEALTH? WILL IT AFFECT YOUR RELATIONSHIPS?
Other factors that are affected by stress can include your health, finances and relationships. While this new opportunity may pay better, ask if the company is willing to help offset the cost of moving? Moving can run into the thousands. A family member with a health condition may worsen when you leave. If you do relocate, will they be able to have the healthcare they are accustomed to? One of the key factors to healthy relationships is the ability to compromise. What's best for one person must be looked at in relation to what's best for everyone involved.
DOES YOUR NEW OPPORTUNITY ALIGN WITH YOUR LIFE DREAMS, GOALS, AND AMBITIONS?
When considering your options, consider whether this new opportunity is a step toward the life goals you have for yourself. Society has it's own standard of "success;" a high income, live in a large home, have a certain number of children, drive a certain car… you've heard it all. However, all of that may not be how you personally define success.
You may be looking to simply pay your bills, put work out of your mind when your head hits the pillow at night and enjoy the weekends and after work hours with your family and friends. Don't let the appeal of "so called" success determine your decision. Stick to the real you, the goals that are placed in your heart, and you can't go wrong.
WEIGHING THE PROS AND CONS OF YOUR NEW OPPORTUNITY
Grab the legal pad, because this is the part where we recommend the good old-fashioned pro/con list. This list is a tried and true way to weigh your options when making a life altering decision. It's a visual way to process how you think and feel about the move. Loved ones will have an opportunity to weigh in. With this tangible list in front of you, you can really process through the decision. The best solution will, without a doubt, become evident for all parties involved. If it doesn't at least everyone has had a chance to express how they feel and you can all go on from there.
If your decision is YES, give us a call. We have a trusted network of agents all across the country, and would love to help you make a connection with someone who is sure to help you!