Your Guide to the Best Bike and Hike Trails on the Northshore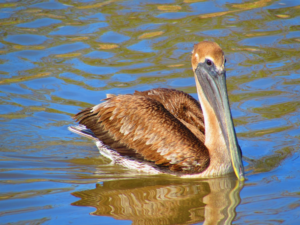 Ready to stretch your legs or get outside for some fresh air? Here's your guide to the best hiking and biking trails on the Northshore.
Some view the Northshore as a bustling suburb, but did you know that it's also home to some beautiful hiking and biking trails, for those looking for a little peace and quiet? Whether you're looking for a fast paced ride/hike or something more calm, look no further than right here in our own backyards! While our trails here tend to be pretty flat compared to other parts of the country, you're sure to see landscaping, plants, animals and other things that are native to our area and make hiking and biking in our area pretty leisurely and unique. Check out our list of trails on the Northshore, and figure out where your next adventure lies.
Tammany Trace – Louisiana's highest rated trail with tons of Louisiana history. The Tammany Trace is a popular hiking and biking trail for locals and tourists visiting Louisiana. Originally a corridor for the Illinois Central Railroad, this scenic path spans from downtown Covington, through Abita Springs, Mandeville, Lacombe and ends in Slidell. An equestrian path parallels the Trace, so you may have some horse friends joining in your bike/hike. St. Tammany Parish government purchased the deserted Illinois Central Railroad corridor in December of 1992 and with the help of federal funding, asphalted over 30 miles and remodeled railway trestles into pedestrian bridges. This trail is very well maintained and is the pride of St. Tammany.
Boy Scout Road Trail – Spanning 5 miles out and back, this trail is one to explore in the area of Lacombe, Louisiana. Most consider this an easier route, estimating that it takes about an hour and a half to complete. This trail is home to beautiful native Louisiana birds, making it ideal for bird watching. Mountain biking and trail running are also popular activities here. This trail is open year round and is beautiful to visit any time during the year, and very peaceful, you may not see anyone else while you're out on the trail. Dogs are welcome on Boy Scout Road Trail, but must be on a leash.
Northlake Nature Center Trail – With three loops, this Louisiana trail is a nature lovers dream! At about 5.2 miles, this is a popular route for watching Louisiana Bird Watching, hiking, biking, and experiencing many of the natural elements that Louisiana has to offer. This route is considered generally easy and is a great trail for the whole family! The Nature Center Trail is very popular so you're probably going to see others while out on the trail, but you can still enjoy some tranquility during less popular times of day. Dogs are welcome on this trail as long as they are on a leash!
Camp Salmen Nature Park– With three trail systems, Camp Salmen Nature Park is one of the Northshore's most beautiful parks offering a real nature based experience. The camp itself offers beautiful picnic pavilions, meeting places, scenic Bayou Liberty and the park has four miles of hiking, biking and boardwalk trails enabling you to get up close and personal with nature. Open year round, you'll have a different experience with each of the changing seasons when visiting Camp Salmen Nature Park. Immersed in Louisiana History, make sure to stop and read markers and learn more about the park. This park offers a mix of hardwoods, including Slash Pine and other native and non-native to Louisiana plant species. The ecosystem and landscaping are continually evolving at Camp Salmen.
This Nature Park offers three trail systems:
BAYOU LIBERTY TRAIL- spanning only about ¼ mile, this trail is located near the main parking lot and includes the popular swamp walk boardwalk through the wetlands to an observation platform which overlooks the quiet waters of the bayou. Upstream is the Nature Garden and Outdoor Classroom. Downstream you'll find an amphitheater and lodge.
ASPHALT BIKE PATH- This spur is about ½ mile and is a future link to the Tammany Trace Bike Trail. The path starts at the pavilion, crosses Goldfish Bayou, past Mary's Grotto and follows the W-12 Canal to the gates to Slidell and the downtown end of the Trace.
MAIN TRAIL- This trail, which begins in the corner of the field across Parish Parkway from Mary's Grotto, spans approximately 1 mile. Stay to the left, and except for a few short dead ends, you'll journey through the woods to the other end of the park. On the right, there are several loops and exits to the parkway. The Gum Swamp Boardwalk is the first trail to the right and the Pine Savannah is at the other end, near the park entrance. Stop by the Main Pavilion for a map!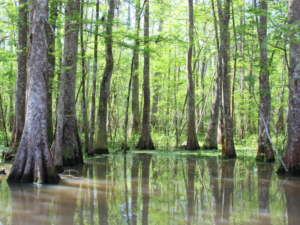 Don't worry, you won't get lost. The park is small and there are neighbors all around. You will want to watch the time, as the park closes daily at 5pm. Have fun!